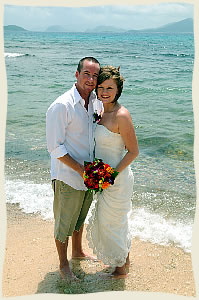 Hello Island Wedding Services!
We just wanted to say a huge thank you to everyone involved in making our wedding so absolutely perfect! Everything was gorgeous and our minister was sweet and so relaxing!
Our photographer was amazing and the pictures came out beautiful!
We can't quit looking at them!
We're so glad we made the decision to come to St. Thomas to get married, and we're so grateful you all were there to help us along the way in every aspect of planning our special day!
THANK YOU from the bottom of our hearts!!!
Sincerely,
Casey & Britany - Oklahoma
married at Sapphire Beach