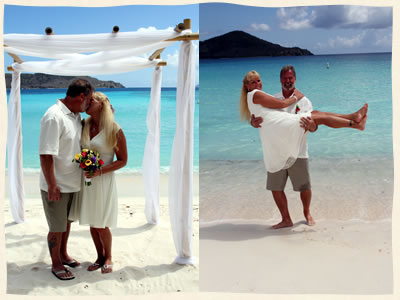 Greetings! Dave and I wanted to let you know how incredibly pleased we were with our island wedding on Lindquist Beach on April 25, 2013 & we would love to be one of your "Happy Couples"

We have always dreamed of an island wedding and only decided to try to make it happen 2 weeks prior to leaving on our Carribean cruise with family & friends. To start, I contacted the cruise line and they said it couldn't be done in less than 60 days. Even if they could, they wanted a tremendous amount of money for very little. They didn't have many choices of what they were able to provide and everything was going to be extra. Before we gave up on the idea, we did a search and found your website. It was so straighforward & informative, that we decided to contact Island Wedding Services. Summer responded immediately to my e-mail inquiry and assured me that anything we wished for could be accomplished in that short period of time. We loved having the choices your ala carte menu offers, anything from simple to extravagant, and we were completely impressed that everything was resonably priced and it turned out flawlessly. The location was beautiful, the driver was courteous, the minister was fun and relaxing, the flowers were gorgeous & the photographer did a great job. We couldn't have imagined anything more postcard perfect. We can't thank Summer enough for all the suggestions she made including a small reception at Secret Harbour. She took care of everything on the island, so we could worry about all the other details such as getting our rings and a dress on such short notice. Summer was exceptionally responsive and always pleasant, professional, and very reassuring.

We are so happy that we trusted Island Wedding Services to give us the wedding of our dreams and you certainly exceeded our expectations. There are no words to express our gratitude for all you've done. Thanks for making our dreams come true!

David & Alice Myers
Columbus, Ohio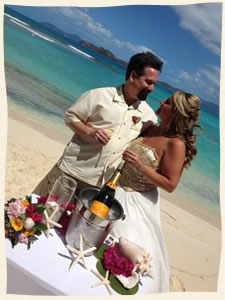 We just wanted to let you know how wonderful everything was for our special day. Shawn
and I were so happy with everything. Lindquist Beach was so beautiful and perfect it was everything we hoped for.

Thank you,

Sherry Shevlin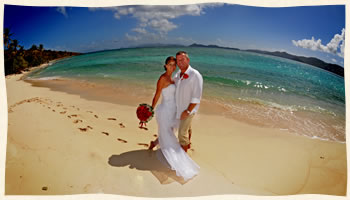 We had the PERFECT wedding day.
Nothing could have gone better. It was like a dream.
Thank you for arranging everything.
For sure a day to remember.

Cheers,

Andreas & Niki
married on Hans Lollick Island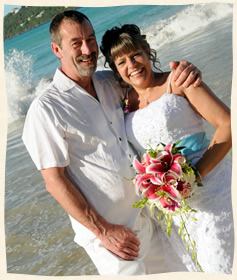 For our 25th Wedding Anniversary my husband and I renewed our vows on Magens Bay in St. Thomas! We contacted Island Wedding Services in St. Thomas VI. All of my plans were done through email and by phone. Summer Westman assisted me with every step along the way. I must say, the setting was perfect and everyone involved made us feel like an old friend! I got my pictures and video back and I couldn't be happier with the results! Everything about that day was perfect, right down to the limo ride to and from our cruise ship! Thank you to everyone for giving us the wedding we never had 25 years ago!!!
Sincerely,
Shelley & Richard Nerbonne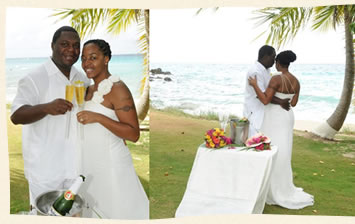 Good evening,
Our names are Sean and Antoinette McDonald. We received our beautiful photos from our amazing vow renewal on Bluebeard's Bay. We've celebrated 12 blessed year.
Antoinette- I surprised my husband with the vow renewal and it was magical.
Sean- This experience of having our vows renewed encaptured in our pictures is one of my most favorite lifetime experiences. I will forever cherish these memories. Thank you Island Wedding Services for such a beautiful service.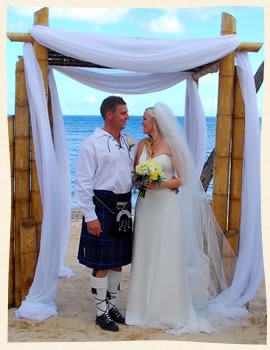 With Gordon from Scotland, and myself from NZ, we wanted to choose a location half way between both families. I did some research and had heard St Thomas was a beautiful place to get married, and then I found Island Wedding Services online.
Summer has been our consultant, and from day one she has always been highly organized, patient with my many questions, and given us honest excellent recommendations for other services we required on the island, such as a reception venue (Bolongo Bay - was fantastic!), a wonderful place to get our cake, flowers, photographer (he was incredible) , transport, music - everything.
I felt absolute confidence from the minute we started corresponding, which I was extremely grateful for.
And the actual day itself was even more incredible than we could have imagined - beautiful blue sea, sunshine, and everyone we dealt with couldn't have been more helpful. Summer made sure everything ran so smoothly that day, and everyone in our wedding party said it was the best wedding they had ever been to.
I cannot thank Summer and Island Wedding Services enough for both making our day perfect, and ensuring I didn't have to worry about anything other than focusing on the day and enjoying every minute of it.

Stephanie and Gordon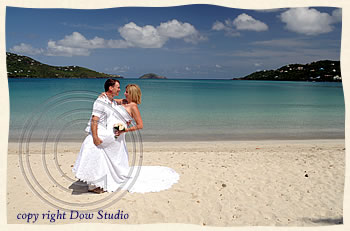 Dear Island Wedding Services,
We wanted to thank you so much for the amazing wedding we had on St Thomas last week. The day was beautiful, our minister was great and patient. The rave reviews about the cake that Cynthia made, and the beautiful flowers!!
Our photographer was a fantastic photographer and made the whole experience something we will cherish the rest of our lives. We could not have done it without everyone's help and professionalism. Thank you again!
We were asked about who helped us several times on our trip and made sure Island Wedding Services was mentioned!!

Suzy and Randy Foster
Married at Magens Beach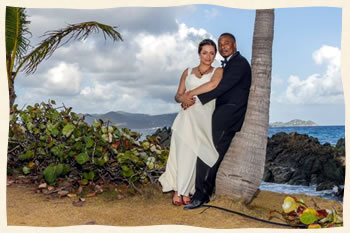 Dear Summer and staff at Island Wedding Services,

We were married on Sapphire Beach, Pretty Klip Point. We wanted to send a warm thank you for helping us make our wedding day
perfect. We asked for something intimate and simple with breathtaking scenery and we received exactly what we asked for and more! Our minister & our photographer from Dow Studio VI, truly made us feel at home and contributed more to our elopement experience, than we ever could have asked for! It was more relaxing & fun than we ever could have anticipated. We are so glad that we chose to elope in paradise and truly appreciate the level of professionalism and courtesy that your staff showed us. Our ceremony and pictures turned out amazingly well and have truly left us with an experience that we will cherish for the rest of our lives.

Warmest regards,

Amanda & Don Partee
married at Pretty Klip Point / Sapphire Resort



Katie and I want to thank you once again for making our wedding day the best day of our lives. Everything was absolutely PERFECT from start to finish and we will remember it forever. Neither of us could have imagined that the whole process could be this easy, especially with so many moving pieces and the fact that neither of us had been to St. Thomas before. But everything was executed flawlessly and we have you and the professionalism of your team to thank for that! The limo service was worth every penny; our driver was courteous, attentive, and set the right tone for the occasion. Our minister, was right there to greet us as the limo pulled into the resort and really put us at ease right from the start. Not only was she warm and inviting, but she also came completely prepared and offered to show us the most beautiful area of the beach..after seeing it, we just knew that our dream wedding was coming true! We were amazed and delighted by the ceremony that she lead and she even guided us to our catamaran after we finished taking pictures. The catamaran experience was the icing on the cake - the boat crew was attentive and professional...plus they made some great drinks! They sailed around the beautiful islands and took us to a prime snorkeling spot where we saw sea turtles and a huge (but friendly) barracuda. Overall, we couldn't have been happier with our wedding and you have given us memories that will last a lifetime. Thank you so much!
James and Katie
married at Sapphire Pretty Klip Point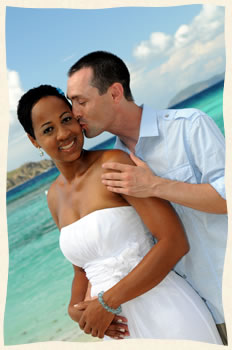 We cannot say enough about Island Wedding Services. We concluded that their unofficial motto must be "Make it so!," because that's exactly what she does. Island Wedding Services arranged our wedding ceremony aboard a 60 foot ketch in a beautiful cove off of Great St. James Island! We couldn't have asked for a better minister/crew (hi Captain Joe, Kelly, and Jack!) – they were simply phenomenal. Michelle was also able to schedule us a wedding photography session prior to our sail with one of the best photographers I've ever encountered. The day was pure magic and we can't thank her enough. She has clearly cultivated excellent relationships with the professionals who can make your wedding day absolutely perfect, no matter how simple or extravagant you'd like it to be. We highly, highly recommend IWS. You'll be delighted!
Thanks again for orchestrating an incredible experience that we will never forget. Keep the good times rolling!
Sincerely,
Michelle and Jason Bryan, Lexington, SC (married in Christmas Cove aboard the Treasure)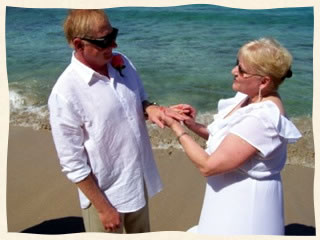 Where to begin.......I really can't put into words how perfect our wedding was. You truly made us feel like we were the only couple in the world that has ever gotten married on a beach in St. Thomas. Thank you for suggesting Bluebeard's beach. It was beautiful, private and exactly like I had wanted it to be. You helped us create a wedding that was totally flawless and could never be surpassed. The ease of making all the arrangements through emails and your quick replies kept me from being overwhelmed with all the details. Please extend our thanks to Clover, our taxi driver, who was a real gem. And last but not least, we loved our wedding crashers, the iguanas. They provided us with entertainment and some fun pictures. Above all, thank you for being our minister. We loved your warmth and sense of humor and the beautiful ceremony. I will be recommending IWS to everyone who is entertaining the thoughts of a tropical wedding.

Berry and Toni Lee, Isanti, Minnesota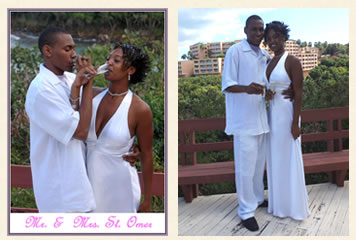 Island Wedding Services,

I must thank you on the beautiful wedding that I had because of your flawless planning. My wedding site was at Point Pleasant and it was simple elegance!

Our minister was amazing, warm, and such a professional. The champagne we ordered was awesome and she also brought a small music system to add to the atomosphere. It meant so much to have your services in place. It lifted loads of stress off me.

The step by step instructions on your site for the necessary paperwork was accurate. Your business is well known with the the hotels and other buisnesses. Because of this we were treated so warmly.
Thanks again and please post this TRUE testimonial and share our wedding photo in your website.

Thanks, One More Time,
Takeenia & Jaime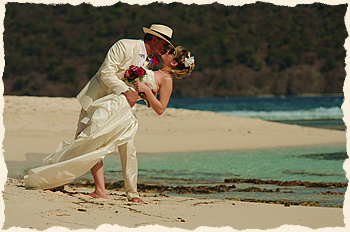 Oh what an amazing experience!
Our wedding was the most beautiful, romantic, blissful ceremony we have ever been to and all thanks to Island Wedding Services. They were there to handle our correspondence and arrangements was always there to reply to any questions and solve any issues we had (even the silliest ones imaginable). We tell all our friends back in Europe how easy it was to organize this amazing venue in St. Thomas, even though we hadn't met anybody in person before the event.
Linquist beach was even more beautiful in reality than it was in the pictures. Everybody was on time and everything was in place even though we changed several things last minute. Our minister was absolutely amazing - so happy for us - and when we look at the pictures we remember the feeling of wild excitement and bliss we felt on the beach. Both us and our guests were absolutely thrilled!
Thank you Island Wedding Services, we will be recommending you to all couples dreaming of an unforgettable island wedding. You exceeded our expectations and if we could go back we wouldn't change a thing! The organization and the wedding itself were just like our relationship: smooth, happy, easy and fun! We wish this to all couples!
Alinka (Poland) & Riccardo (Italy)
Married on Linquist Beach



Dear Island Wedding Services,

I would like to say thank you very much for the wonderful experience what we had, the service was excellent.
I was a bit scared as we organized everything by mail but it was the best idea to choose you.
( when we were at the Cort house there was a couple and they minister didn't show up) I know i choose the best if any body asking for some recommendation from Europa :) you free to give out our name.
Eva and András Novák from Hungary
Married in Lindquist Beach Smiht bay park
24. 01.2012.
Thank you once again!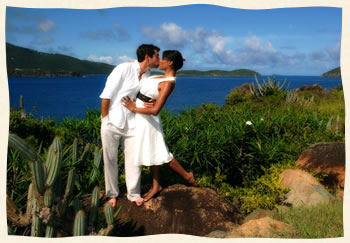 All we knew was that we wanted to get married on the island somewhere with cliffs overlooking the ocean, not even knowing if such a place existed on the island. After contacting Island Wedding Services, everything else just fell into place, and we felt so much at ease. Within 24 hours of sending an initial email about what we wanted, we received an email back that was way beyond our expectations. We couldn't believe that you all had gone to revisit a location that you used to use just to make sure it was available for us! It can be nerve-wracking to plan a wedding without ever visiting the island or the exact wedding location before everything is all planned -- but not with Island Wedding Services! Peterborg Point took our breath away! It was absolutely gorgeous and definitely more than anything we imagined it would be. Thank you so much for taking the time to make sure there was public access again at Peterborg Point and turning all of our wishes into reality!!

Brittany & James Martin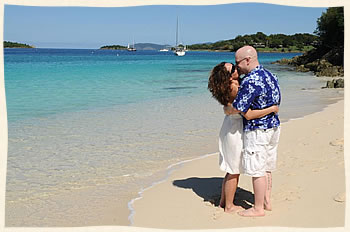 "Island Wedding Services made planning and arranging our wedding unbelievably easy! They helped at every stage along the way and made our Caribbean dream come true. We could not have asked for a better experience from Island Wedding Services, Captain Jim on the 38 ft sloop or the photographer. We wanted an exotic, laid-back and stress-free wedding but had absolutely no idea where to start. Island Wedding Services asked what we had in mind, made suggestions and made all of the arrangements from start to finish. I would definately reccomend IWS to anyone!. Randy and Aubrey Lockard, St. John Honeymoon Beach, December 2011."
Randy and Aubrey Lockard
Anchorage Alaska December 2011.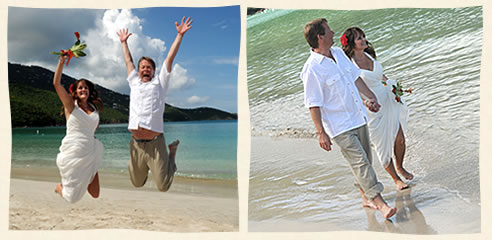 We got married in Magen's Bay and it was amazing! Everything worked out just perfect and you were such great help! Our special day was better than what we could have ever imagined! Thank you so much
For making it the most beautiful day of our lives! The minister was awesome and so was the photographer. They were so personal and so much fun! I would highly recommend for anyone wishing to have a destination wedding. St. Thomas is the perfect place!! We will definitely be back!!
Thank you once again! Memories to last a lifetime!!
Cheers
Marie and Kent Sargent
St. John's, Newfoundland Canada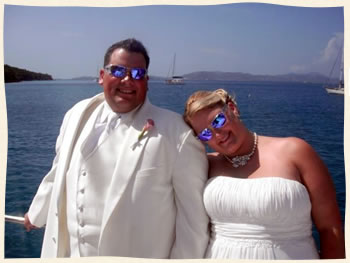 We just wanted to take a moment and thank you for all of your hard work to make our day so special and memorable! Everything seemed to work and go off without any issues! Everyone LOVED every bit of the day. From the beautiful scenery and setup to the snorkeling off of the Catamaran! We could not have asked for a more perfect day! We will definitely recommend you to anyone that we meet that is even thinking of getting married!
Again thank you for everything!

Michael & Karen from Virginia
Married at Lindquist Beach followed by sailboat reception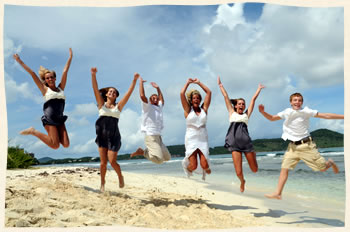 STOP LOOKING FOR SOMEONE EXPENSIVE AND HARD TO DEAL WITH WHEN PLANNING YOUR WEDDING...
You just found the best way to go right here!!! Not one problem in planning our wedding on our own and we went on a cruise! They wanted over $3000.00 to do what we did with Island Wedding Services for just $875.00, PLUS we got pictures too!!! Everyone from Michelle to our minister and photographer, were amazing!!! You guys are awesome and I wish I was getting married again, just because you made the experience so easy and beautiful! Thank you, Thank you, THANK YOU!!!!!
Hugs and Sunshine forever!!!
Tonia and Les Fainter married at Lindquist Beach
P.S Our kids had a blast....look at those smiles!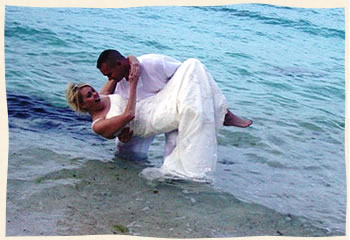 I wanted to drop you an email to let you know that our little vow renewal was PERFECT for us!! Our pastor was so warm and inviting that there was no way to be nervous!
Our photographer couldn't have been more suited to us.
We took some pictures before the ceremony, and after. During the ceremony, it was like he wasn't there! I wish we had done this 20 years ago!

We had so much fun! Thank you so much!!
1SGT Stephen & Kelly Givens
Vow Renewal at Pt. Pleasant's Sugar Beach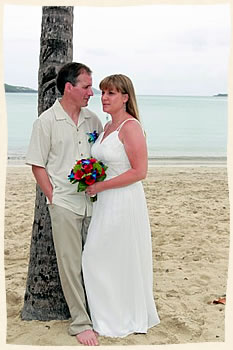 Where do we start...

Our thoughts for planning our wedding were romatic, stressfree and unforgettable. Magens Beach was the perfect backdrop for the cermony with family and friends sharing our happiness.

Island Wedding Services helped make our dreams come true by doing an amazing job coordinating the entire event.
We had so many reservations about planning our special day via email.
Our minister, photographer, flowers and champange set up turned out perfect!!!!!!!!!

Thank you for making our dreams come true and making memories to last a lifetime......

Laura & Tom McKain
Married Magens Beach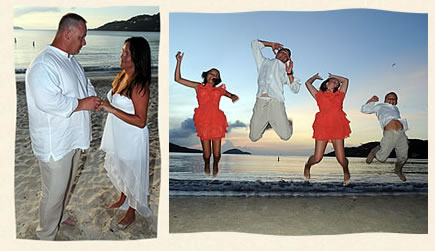 Unbelievable is an understatement. Our wedding was the definition of perfection, your coordination and efforts are very much appreciated. We took a leap of faith and could not have had a better result, our sunset wedding on Magens Beach was everything we could have ever expected and then it was a little bit better. Our minister was spectacular.Our photographer was fantastic. The flowers were breathtaking. The champagne table perfect. You and your staff made our special day perfect. This was so much easier than any wedding we could have planned at home. I really can't believe how perfect everything was. You have our permission to give out our email or phone number should anyone considering your service require a reference.

Thank You.
Warmest regards,
Rob & Sue DeRue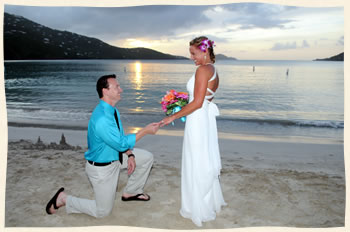 Island Wedding Services did a fabulous job organizing our
ceremony at Magen's Beach. Everyone was organized, professional and
very nice. Loved the set up and the champagne toast! Thanks for making
our special day perfect!!
Thanks again!
Catherine & David
From Wisconsin
Married at Magens Beach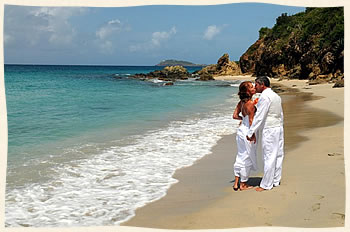 Our minister was amazing, Our photographer was a delight to work with, he put up with me being very particular about poses/shots that I wanted.
We arrived late to the location, were not dressed and both the minister and photographer were so helpful and really settled us right in.
Ceremony was beautiful and unique, everything we could have hoped for.
The location and the weather were perfect.
The fact that you answered every text & email and call no matter what you were doing to answer all my questions and concerns just proves that you have a passion for making people happy!
We are hoping to see you next year for our vow renewals.

Lovingly,
Diane & Tripp Bartlett
married at Bluebeards Beach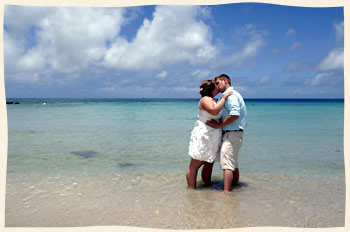 Nicole and I wanted to thank Island Wedding Services for our wonderful experience. We were very happy with the service we recieved, and the communication we had the entire time. Our minister was wonderful, and the photographer did a terrific job as well. I'm sorry we will not be returning customers ourselves, but we do tell people that running away to Saint Thomas is the way to go.

Thank you again,

The Kopytkos
Married at Lindquist Beach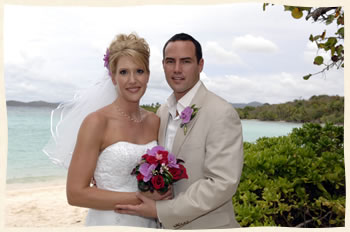 I wanted to take a moment and extend our sincerest thanks to you and your staff for coordinating our wedding.
Our minister, photographer, and videographer were absolutely wonderful to work with.
Lindquist Beach was a piece of heaven for a location and I couldn't have asked for anything better.
I will recommend you to all of my friends and family.

Sincerely,
Jen & Brandon Ciebell
Married at Lindquist Beach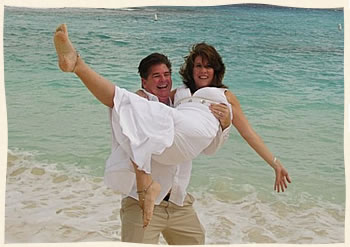 Thank you for your help in planning out happy day. Since you were witness you know how special the day was for us. You helped make it perfect by providing the most beautiful bouquett of flowers and warm and experienced minister and of course the limo taking us to the perfect location. I highly recommend your services they are there for the extreme and simpliest. Hope to see us on your happy couple page because we are a "Very Happy" couple.

Ina and Alan Sechrest
married at Lindquist Beach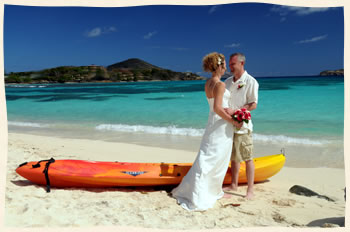 We wanted to thank everyone for making our wedding day perfect! Even from the very start of making our arrangements thru email, everyone was very helpful and supportive. They promised me it would be easy and beautiful and that is exactly how it turned out! Our minister was very relaxing and sweet, and our photographer was awesome. He even literally ran to get my flowers for me when I realized I forgot them! Island Wedding Services turned our "dreams" into a beautiful beach wedding that we will forever treasure!

Thank you so much!!

Rodney & Denise
Married at Sapphire Beach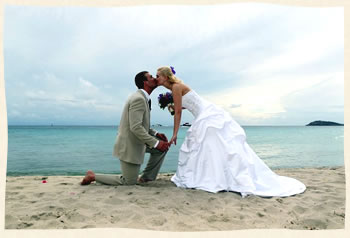 Our wedding at Bluebeard's Beach was picture perfect. It really was flawless. The scenery was perfect. The set up was amazing. And all the vendors that were recommended exceeded my expectations. I have to mention East End Flower shop, who provided our arch and flowers. The orchids were unbelievable. I wore two in my hair that were huge and absolutely gorgeous. I was very impressed. The photographer was excellent. He really knew what he was doing and gave us direction which is really important. He took a lot of pictures! It is impossible to choose a favorite. I really loved and recommend Caryl Ayn who did my hair. She was so entertaining and did an amazing hair and make-up job.
I also want to thank Michelle at Island Wedding Services, for all her quick correspondence prior to the wedding. I bugged her for a good 6 months at least, but she always had an answer :)
This was hands down the best choice for a simple, yet elegant, and unique wedding. Not to mention easy and stress-free, the way I think a wedding should be.
Thank you for making our destination wedding possible.
The Laughreys
Married 4/12/11 at Bluebeard's Beach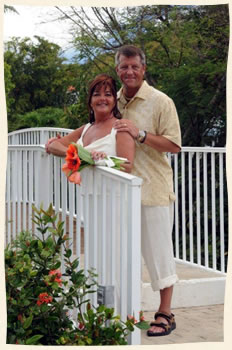 Thanks for all you did to help with our wedding in St. Thomas.
We were very pleased with both our minister and our photographer.
They both made our day so incredibly special, one we'll always treasure.
Sherree & Bruce
married at Bluebeards Beach
from Kentucky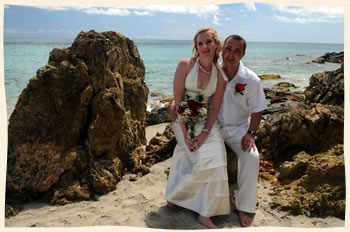 Hi there and thanks for a beautiful wedding.
We would like to say the photographer was very good and
the minister was great to and we do like Bluebeards beach very much.

Lee & Natasja
from England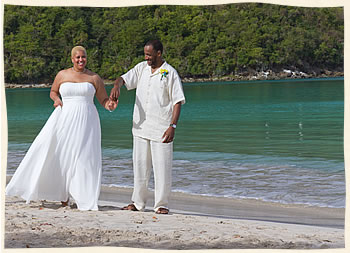 Sending love to our new friends in St. Thomas,
thanks so much for setting up everything for us on Valentine's Day, we wouldn't change it for nothing.
We really enjoyed the video and pictures and visiting St. Thomas.
We may be back on our anniversary, you never know.
Love you guys.

Cheers
Kesha & Alphonso
married at Magens Beach
from Maryland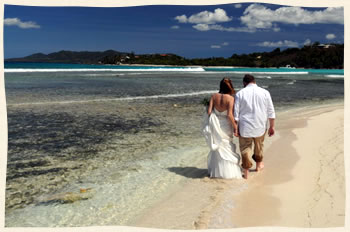 Good evening,

Thank you so much for helping plan an absolutely beautiful wedding! The minister was perfect - kind, nice and thoughtful. Our photographer was excellent - we walked away with incredible pictures (I am loving making others jealous over my wedding pictures! :). It ended up being a truly perfect day and it couldn't have been easier. We arrived via cruise ship, went to the courthouse to pick up the license and stopped at East End Flower Shop to pick up my flowers (I HIGHLY recommend them - they were awesome to work with!), then it was off to Lindquist Beach where we met the minister and photographer and got married. Thank you for your help and for having such helpful information available on your website!

Love,
Nate and Amanda
married on Lindquist Beach
from Wisconsin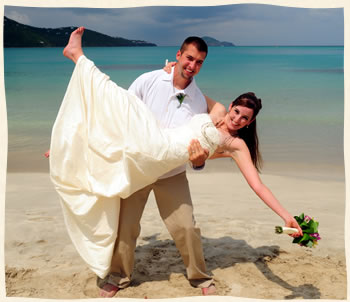 Good Evening,

First, we wanted to thank you from the bottom of our hearts for making our wedding day absolutely incredible.
Our minister did such a wondderful job in pulling everything together and was very easy going yet very professional.
Also the photographer and videographer were so nice and also professional and they also helped to pull everything together so beautifully.
Magen's Beach was a perfect back drop to our ceremony.

Nicole & Tony
from New Mexico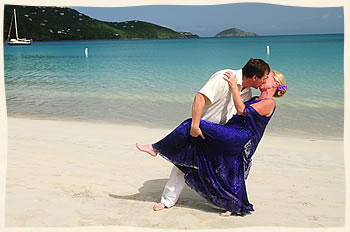 Hello To Your Beautiful Island:
We just wanted to say thank you for making our dreams come true ! !
Your island is beyond beautiful...
The ceremony was nothing short of perfect ! !
Our minister was so down to earth & made us both feel at ease ! !
The photographers were great as well ! ! !
Truly it was a dream come true..... we will come back to your beautiful island one day ! !

Warm Regards
David & Amy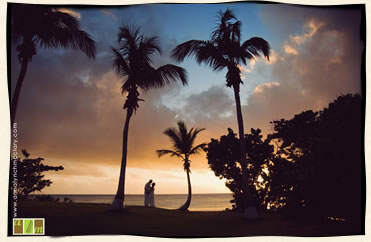 We wanted to drop you a quick email to say thank you so very much
for helping us to coordinate our island wedding at Bluebeards Beach!! It was
absolutely perfect, and we could not have asked for anything more!!
When we pulled into the beach we was absolutely floored!! it was
beautiful and perfect and more than we could have asked for!!
Our sunset wedding was the perfect choice, as I'm sure you can see by the photo.
Thank you and Islandweddingservices.com for making everything so effortless for us!!
sincerely,
Farrah and Todd
from Crown Point, Indiana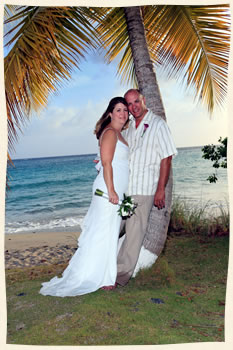 My husband and I would like to extend a huge thank you to your site for helping us to plan our wedding in St. Thomas.
We had a fabulous time and the wedding went exactly as we planned.
Planning any event in a place for which you have never been is an anxiety laden undertaking, but your site made everything so easy from the site to the photographer.

Thanks again!

Andrea & Stephan
Married Bluebeards Beach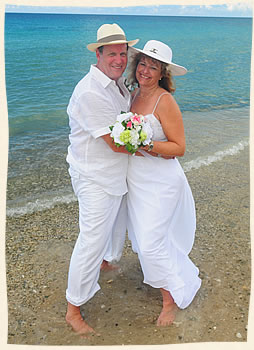 This email is long overdue. We had the pleasure of using your services 9/9 on St. Thomas.
We arrived on a cruise ship in the morning.. had hired Chris' limo service (we had his black suburban which was excellent).
He was wonderful and helped to make our day extra special.
The tips you gave online made everything easy.
Our minister and our photographer were great, (getting the disk was cool to edit and change to black and white and sepia at home).
The beach at BlueBeard's was everything we could have hoped for.

Brad and Susan,
Annapolis MD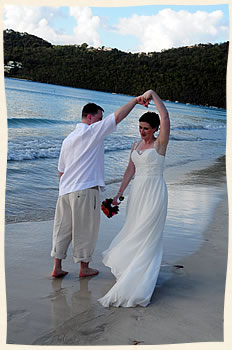 Hello!
We are approaching our one year anniversary and have been thinking back on our wedding and what a wonderful time it was.
Island Wedding Services was fantastic to work with from the spa and limo recommendations to the perfect wedding service and minister.
The pictures are wonderful - exactly what we wanted and could not have been more perfect.
A huge thank you to everyone involved for making our day perfect and exactly what we wanted!!
Thanks so much!!
Lori & Doug
Married at Magan's Bay Beach at sunset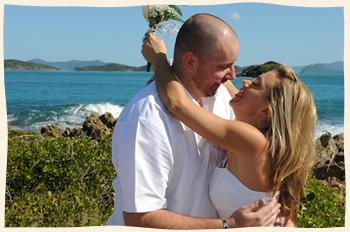 We wanted to take this opportunity to thank you for everything you did to ensure we had a wonderful wedding day.
The minister was the warmest, friendliest person and provided us with such a beautiful ceremony.
Our photogrphaer was courteous and professional.
All in all, this was a magical day for us; one we will cherish forever.
We couldn't have done it without your help.
Island Wedding Services rocks!
A million thanks to you. :)
Love, Angela and Chris

Married at Sapphire Beach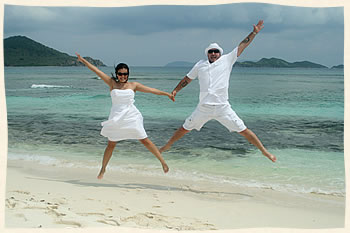 Good Day!
We are home now from our wonderful wedding and honeymoon in the Caribbean.
It was made truly perfect by the services provided by you, our minister and our photographer.
We appreciate the ease of your website, the recommendation of a driver and the detailed instuctions on your "Steps" page.
I'm writing today to both thank you :)
Many thanks!
Nancy & Dax
Married at Lindquist Beach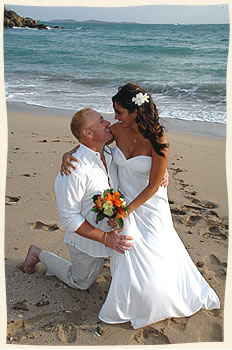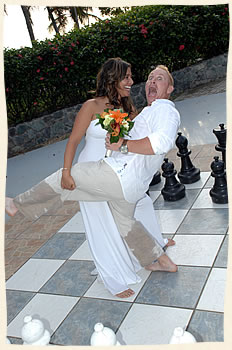 Thank you so much for everything!
We had the most perfect, beautiful, stress free day!
A great way to start the rest of our lives together!
We would not have done anything differently!
The minister & photographer were amazing!!
We can't wait to develop the pictures and show them off to our family!
Thank you!
Jess & AC Coleman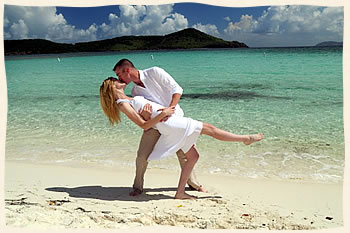 Now that we are back from our honeymoon and the post-nuptial celebrations are over, I can finally sit down to write to you to let you know how grateful I am for all that your company did for us on our wedding day.

I am still living in that day. It is not a day I am really willing to wake up from. Every single moment of that day was absolute perfection. From the moment we stepped off the boat to find an island-themed, open air tour bus with Bob Marley blaring at full tilt while we meandered our way around St. Thomas, to the moment we embraced our minister while we eased our toes into the sand and surf, to the endlessly clear, brilliant, breathtakingly perfect backdrop we hovered in front of while we shared the most important exchange of words in our relationship, to the snapshots we posed for attempting to capture the essence of the day on film which Thomas was ultimately incredibly successful at accomplishing. The entire experience was like some indescribable, beautiful, perfect dream that I could never have concocted in the deepest, wildest, recesses of my mind. Unbelievable, I got to live through it instead....with the man that I'm hopelessly and eternally in love with. You helped to create a memory that was so piercingly beautiful, it completely altered my perception of what's possible in life in a very meaningful and positive way.

Thank you for all that you did for us, for being so helpful in our preparation efforts, for being so quick to respond to all of my inquiries, but most importantly, for existing!

Allison & Patrick
Married on Lindquist Beach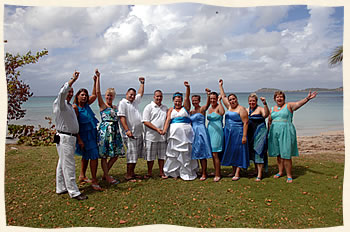 Hello!

This is the Welsh famliy, we got married on Sept 7th in the wonderful island of St. Thomas. First of all let me thank you for all that you did for us. It was perfect in everyway. The photographer and the minister were great and the bar staff at the Bluebeard Resort were super friendly too.We would never change anything about our specail day and it is becasue of you that our dream come to life.

Thank You!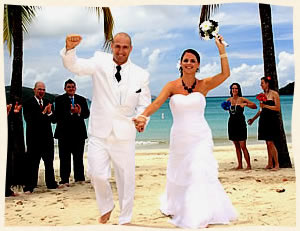 Leon and I are back from our cruise vacation and our wedding at Magen's Beach.

It was BEAUTIFUL! I could not of asked for anything better. The photographer and minister were amazing. It was such a great experience and thank you so much for all of your help. Thank you so much again and making our wedding ceremony an amazing one and our group of 40 people LOVED it as well, they said it was the most beautiful wedding they have ever been to!

Sincerely,.
Jacqui and Leon Wilson
Michigan